How to Participate
How do I enter the walk?
To participate as a walker, you must complete the registration form by either clicking the Button or Menu item Register for Walk above. You are given the opportunity to purchase tickets (see image below), ie an adult ticket, a Family ticket or a child's ticket. Additional Child registrations are also possible.

We automatically create a fundraising page (called an Individual Fundraising Page) as part of registering. This we have found necessary due to the confusion between walking registrations and the ability to join a "team" (see details below). Your fundraising efforts, walk fees and/or donations, will be visible by visiting the Support a Walker page and selecting "view" on your entry. You could also appear as one of the top Individuals (by your fundrasing total) on the "Home" page. Having a fundraising page allows your family members and friends, who may not be walking, to sponsor you via donations to your page. You are able to email details to them and optionally connect with your Facebook page to get extra visibility. While we encourage you to fundraise, you are not obliged to do so, in this instance you can either ignore the fundraising emails or login using the supplied credentials and delete your page (if deleted there will be no visibilty nor ability to join a "team").
Note that only one fundraising page is created per registration, so in the case of a "Family" ticket only the person completing the Contact Details section of the form is provided a fundraising page. It is also why we are not allowing the purchase of multiple tickets (other than Children) in the registration process. For further details on setting up a fundraising page, "Individual" and "Team", please take the time to visit the Help/Tips on Fundraising in the menu above. You will learn how you can change the page title, your $ goal, upload an image and other items.
When registering you will see the following section in the form that creates the fundraising page:

At this stage of creating the fundraising page you have three options to decide on:
Display Donations - selecting this will allow your sponsors donations to appear on your page.
Display Donation Amount - check this to allow your sponsors donation amount to appear.
Publish donations to my Facebook wall - check this if you have a facebook account and want your pages donations to be posted there.You will need to connect your GoFundraise account to Facebook, check out the video on this in Helps/Tips on Fundraising page.
These and other settings are configurable once you login to your account.
How do I create a Team Fundraising Page?
We understand that many of you walk as a team and therefore there is also the opportunity to create a "Team" page and have individual fundraisers "join" that team. This enables walkers to contribute as a team, allowing both individual and team fundraising $ goals. All individual fundraising totals will contribute to the Team total. Ideally, the "Team" fundraising page should be created first so that members can join the team after registering (login details are sent via email). Walking fundraisers can join a "team" at any time (see below). Further information on maintaining a fundraising page can be found in Help/Tips on Fundraising in the menu above.
To create a fundraising team, click either the button/menu item Create a Team Fundraising Page above and complete the form. One member of the "Team" should be deemed the "Team Leader" and create and maintain the "team" page. An example of the form is shown below.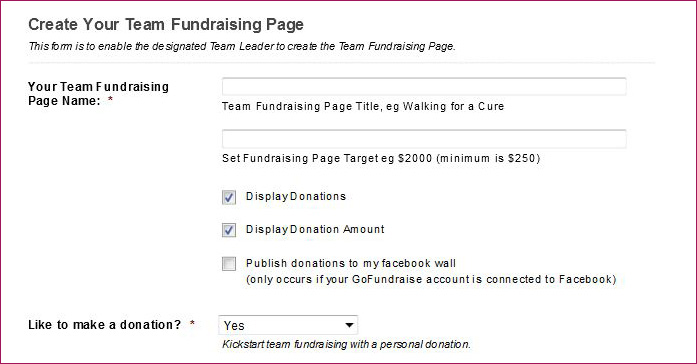 How do I join a team once I have my individual fundraising page?
Once registered (and therefore an "individual" fundraising page automatically created), you can join the team. To join a fundraising team, click on the Support a Walker button/menu item above and then within that page, having found your team, click the "Join Team" button on the row where the team appears (see image below). Note that you must be logged in to join a team (login details would have been sent by email following registration).

How can I support a Fundraiser or Fundraising Team?
For those individuals that cannot make the event but wish to support family members or friends who are participating, they can do so in two ways; using the "Donate" button within the walkers individual fundraising page or by clicking the Support a Walker menu above. From there they will be presented with a page that they can search for either the "Individual" or "Team" and contribute by clicking on the "Donate" button as in the image below.

How can I just make a donation?
There are situations where you can't make the event and you do not know any of the participants to support, but still want to assist the Foundation with a donation. This can be done by clicking on the Make a Donation menu item above and completing the form.