Registration FAQ
When does registration open?
On-line registrations are open now.
Are there any instructions for the registration process?
Yes, the registration process is covered in full with form examples. Select menu option "How to Participate" above or click here.
What are the different registration categories?
| | | |
| --- | --- | --- |
| Registration Type | Conditions | Entry Fee |
| Adult | Over 16 years | $25 |
| Child | Child (5 to 16) | $5 |
| Family | 2 adults and 3 children up to 16 | $60 |
Note:
Children under 5 can participate for free.
How will I know I have registered successfully?
You will receive an email confirming your registration.
When will on-line registration close?
On-line registrations will close at 5pm on Saturday 5th May. After that time, you can register on the day.
Can I register on the day?
Yes, please arrive at 9.00am.
Can I get a refund if I can't attend?
Under the terms and conditions of entry, there are no refunds or transfers.
What happens if it's raining?
The walk will still go ahead. In the unlikely situation of the walk needing to be cancelled due to extreme weather, an announcement will be made on the website www.avnersfoundation.org.au , also via Twitter AvnerFoundation and on Facebook http://www.facebook.com/AvnersFoundation by 7.30 AM on the morning of the walk.
What happens to the funds raised through registration and fundraising?
Profits raised are used for research into the Pancreatic Cancer. Find out more about the programs Avner's Foundation are funding at: www.avnersfoundation.org.au/our-programs
Sponsorship & Fundraising FAQ
What is meant by fundraising?
In addition to buying tickets for the walk, the GoFundraise service enables individuals to raise additional funds through donations ("Support a Walker") from family and friends who are unable to make the walk. To enable this to occur, each fundraiser needs their own web page so as to collect these donations. So, when registering for the walk, we automatically create an Individual Fundraising page. There are 2 types of fundraisers, Individuals and Teams.
Individuals - an individual walker who wishes to collect donations from family and friends. When registering, we automatically create an "Individual Fundraising Page" that creates a personal web page for the person whose personal details are provided. The page can be customised and optionally connected to a persons facebook page if they have one.
Teams - when a group of individual walkers/fundraisers wish to raise funds as a group ("team") and show the total funds collected for all those in this "team". One member of this "team" will act as the "team leader" and create the team page by registering for fundraising as "Team Leader" using the "Create a Team Fundraising Page" process. Note that "Team Leaders can also be "Individual fundraisers".
All fundraisers should visit the "Help/Tips on Fundraising" page for further information.
If you experience problems with this process please contact the Go Fundraise help desk: support@gofundraise.com.au.
How can I join a team?
Any reference to "Team" on the website is referring to a fundraising "team" created by one of the team members who acts as "Team Leader" by creating the fundraising page. To join a team, an individual fundraiser can, if the team already exists, at the time they register or via the "Support a Walker" page and once they find their team, simply click the "Join" button. We recommend that the "Team" is created first so that all others can join the team immediately after they register.
Anyone who registers for the walk and NOT wish to fundraise on the web site, will not be able to "join" a team on the website and their name will not be displayed. They can however participate on the day as part of the physical "team".
If you experience problems with this process please contact the Go Fundraise help desk: support@gofundraise.com.au.
Is there a minimum sponsorship that I am required to raise?
Fundraising is optional and there is no minimum required to participate. There are prizes for highest individual fundraiser and highest team fundraiser. Avner's Foundation are very grateful for all who do fundraise and help raise additional funds for research.
I can't walk on the day, can I sponsor someone who is?
Yes you can, however that person must be a fundraiser, either as an individual or as a Team (so they have their own web page). To do this click on the "Support a Walker" button above and after you find the person you wish to support, click on the "Donate" button on their row. All donations above $2 are tax deductible. Should you not know anyone walking, then you can donate to the event as a whole by clicking on the "Make a Donation" button.
How can we get our sponsorship money to you?
The most efficient way of getting sponsorship money to us is to ask your sponsors to support you online by donating through your personal fundraising page via their credit card. Any cheques you collect can be mailed to us. Cash you collect can be given to us on the day along with the sponsorship form or deposited into our account.
Are sponsorships tax deductible?
Yes, all sponsorship donations of $2 and over are tax deductible. Walk Registration fees however are not.
Can my sponsor make a donation offline (by cheque or credit card)?
Yes, please email admin@avnersfoundation.org.au with the details.
What happens to the money raised from the walks?
All profits (registrations, donations, food/drinks and merchandise sales less costs) raised go to dedicated Pancreatic Cancer research. To date this has been invested in a Trial, internationally recognised, groundbreaking research through the Australian Pancreatic Cancer Genomics Initiative, a PhD scholarship and research grant projects.
Our Vision is to double the number of survivors by 2020. This guides all our research decisions. Find out more about our programs at www.avnersfoundation.org.au and on Facebook
What are the costs that are taken out?
Thanks to our generous corporate supporters, costs are kept to a minimum. Woolworths Limited give us gift vouchers and donate products/prizes, Coca-Cola Amatil donate the drinks, Wellcom print our posters, Mr Beak's donate the sausages and Red Jelly design our posters.
Costs that we cannot avoid are Go Fundraise fees, merchant fees, costs of purchasing stocks of t-shirts and caps. Some costs vary, depending on the location, flights, accommodation, parking, council fees, PA Hire, Traffic Marshall, additional equipment required by Council (water drums) etc.
On the Day FAQ
What time does the walk commence?
The walk will commence at 10.00am but please arrive with plenty of time to collect your purple wristband, take part in the fun warm-up exercises and buy food/drinks and merchandise.
Is there car parking?
Yes, there are spaces in Boathouse Drive and along Alexandra Avenue, however, as it is free on Sundays it will fill up quickly so best to be early. There is also parking available along Linlithgow Avenue that is within the adjacent Kings Domain and the Botanical Gardens, but again best be early as it is also free on Sundays. There are of course parking stations available, the best being the NGV (National Gallery Victoria) which has a flat rate (in after 4am out before 4am Monday) of $21 on Sundays (as of February 2017). It is conveniently located to the event (across St Kilda Rd). Access to car park is from rear in Sturt Street.
The use of Public transport is encouraged as the meeting and start/finish area is near Flinders Street Station and St Kilda Road tram stops.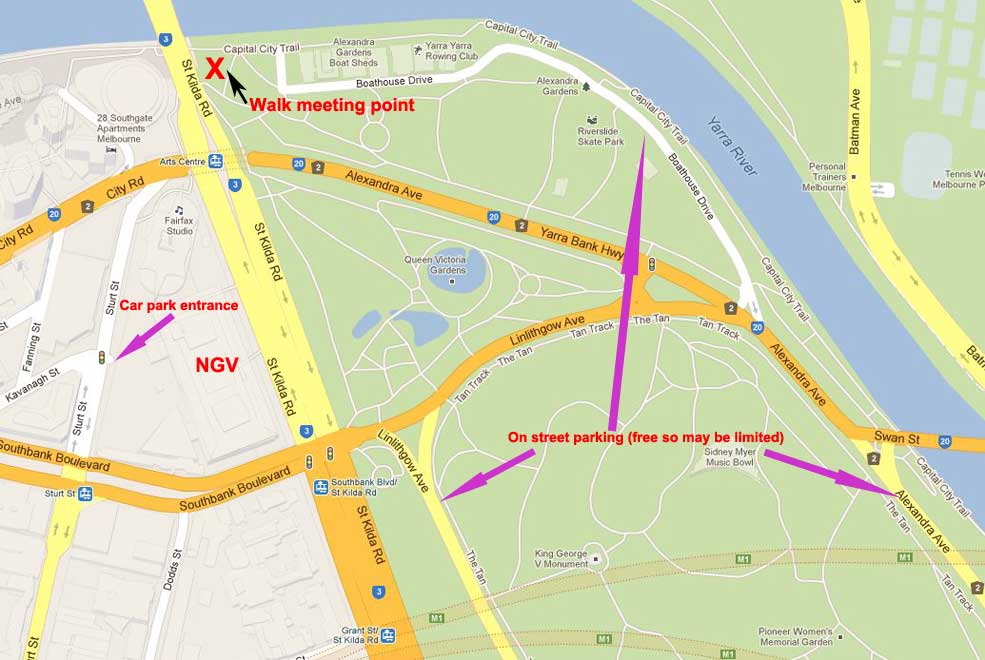 What clothing should I wear on the day?
Runners/hiking shoes and clothes suitable for the weather on the day. Purple is the international colour of Pancreatic Cancer, so please come dressed in purple. Please help us maximise the profits for Pancreatic Cancer research by buying some of our Avners Foundation "Put Your Foot Down" Merchandise. All profits raised go to research into Pancreatic Cancer.
Can I take part in fancy dress?
Yes! There will be prizes for the most creatively dressed in purple.
Will refreshments be provided?
Food and refreshments (including sausage sizzle, muffins and drinks) will be available for sale on the day.
Is the walk timed?
No. You are more than welcome to time yourself.
Are pets allowed?
Yes - but note that the City of Melbourne requires dogs to be leashed in all public areas and the picking up of droppings.
Are strollers and prams allowed?
Since all the of the walk is on pathways, it is suitable for strollers or prams.
Is there somewhere to leave my possessions during the event?
No, please carry all possessions with you.
What length is the walk?
The walk is 5km long and along both sides of the Yarra River.
Are there any other ways to get involved other than walking the course?
Absolutely. You are more than welcome to come along as a spectator on the day to support your friends and family, purchase some refreshments or sponsor a walker or just to be a part of this wonderful event.
How much does it cost to spectate?
There is no cost to spectate. All are welcome to watch.
Post Event FAQ and feedback
Who do I contact if I have feedback?
All feedback can be directed to admin@avnersfoundation.org.au.